Good School Food, an initiative of Jones Valley Teaching Farm, is in the early stages of developing farm-based education tools that have the potential to become a national model for improving local school systems that are significantly behind the national average for performance.
Part of Good School Food is Farm Lab, an outdoor learning laboratory that teaches core subjects, critical thinking, social skills and leadership to students through the process of growing food. Farm Lab comes complete with teacher toolkits and K-8 cross-curricular, standards-based curriculum designed to improve the overall learning capacities of students while increasing their knowledge and understanding of the long-term benefits of healthy eating. It also gives visible, on site, substance to the curriculum taught throughout Jones Valley Teaching Farms' Good School Food initiative. And in turn:
 [1] Gives students a deeper understanding of where their foods comes from and why it matters to their health.

[2] Teachers will have the tools and resources to teach core subjects through hands on, active learning which is proven to increase student achievement.

[3] Lessons will help students practice important 21st Century Learning Skills: critical thinking, collaboration, communication and creativity.

[4] Meeting the needs of learners with varying skill levels and learning styles and promoting responsibility, stewardship and leadership among students.
The basic infrastructure of a Farm Lab includes, but is not limited to: Raised Beds, In Ground Beds, Vertical Beds, Tool Storage, Vegetable Washing Area, Shaded Pavilion, Compost, Water Catchment, Pond / Rain Garden, Amphitheater, Seating, Trees, Paths, and Shade.
To date, two Farm Labs have been completed, the first at Glen Iris Elementary and the most recent at Oliver Elementary. The goal is to complete three more by the Fall of 2015 at Avondale Elementary, Putnam Middle, and Hayes K-8.
ArchitectureWorks' Will McGarity recently transitioned from being the Design-Build Resident at Jones Valley Teaching Farm to a full-time position here at Architecture Works. He designed and built the first two Farm Labs while at Jones Valley Teaching Farm and will facilitate the design and construction of the remaining three from here at ArchitectureWorks.
The third Farm Lab at Avondale Elementary is in Design Development and is set to wrap up construction this fall. The design was well received from the Avondale and Forest Park community members at a presentation given on June 24th.

The main features of this project are a series of shaped earthen mounds, containing various themed gardens that separate the garden area from the play field, a large shed roof that protects two storage buildings beneath, a series of raised beds, a food forest, and a pond ecosystem.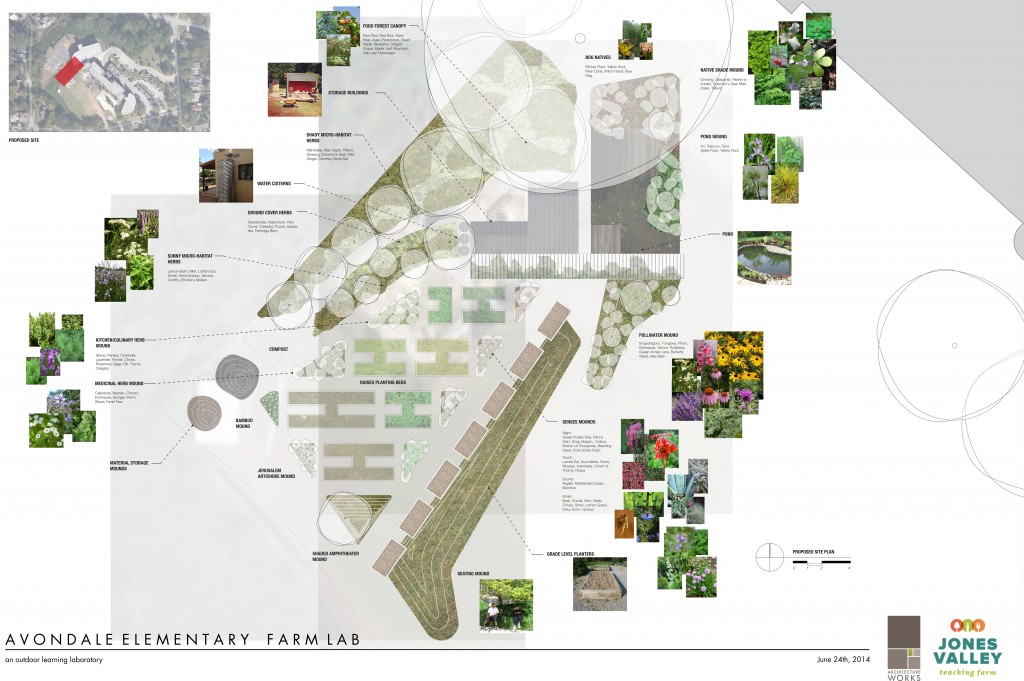 For more info click here
Oliver Farm Lab Day-to-Day Construction 
Thanks for reading.