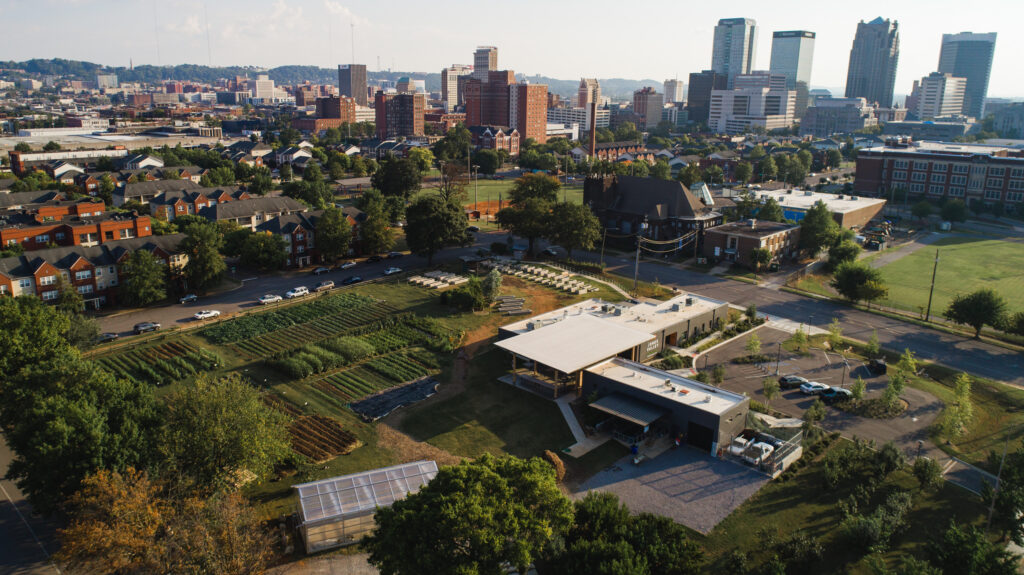 Jones Valley Teaching Farm's Center for Food Education serves as the headquarters for the non-profit's seed-to-plate educational mission throughout the Birmingham City Schools system. The Center is located on single square block in downtown Birmingham. The buildings are sited within one quadrant at the northwest corner, leaving the remaining three southern-facing quadrants for farming and community outreach raised beds.
Three main volumes are organized around a large gathering pavilion. This pavilion serves as a welcome space for visitors. The pavilion's cross-laminated roof structure floats atop glulam beams and columns. The three buildings comprise a farm building, an administration wing, a culinary studio with full commercial kitchen, and education classrooms.
Simple volumes clad in steel panels are punctured with large expanses of windows admitting natural light deep into the spaces. The culinary studio is designed as a teaching kitchen with full video capability for remote and recorded instruction. Through the large windows, the Studio has sweeping views of the crop rows. This visual connection reinforces the teaching that occurs at the adjustable height prep stations.
A covered wash station anchors the harvesting process at the farm building. A large storage garage houses the farm tractor, tools, and other farm implements. High windows on the parking lot side admit natural light while maintaining security.
At the southwest corner of the site, a community garden with a neighborhood entrance gate connects the Center with the neighborhood. A farmstand located amongst the community garden sells fresh produce and flowers to the public.